Best IT services in Middlesbrough for the third year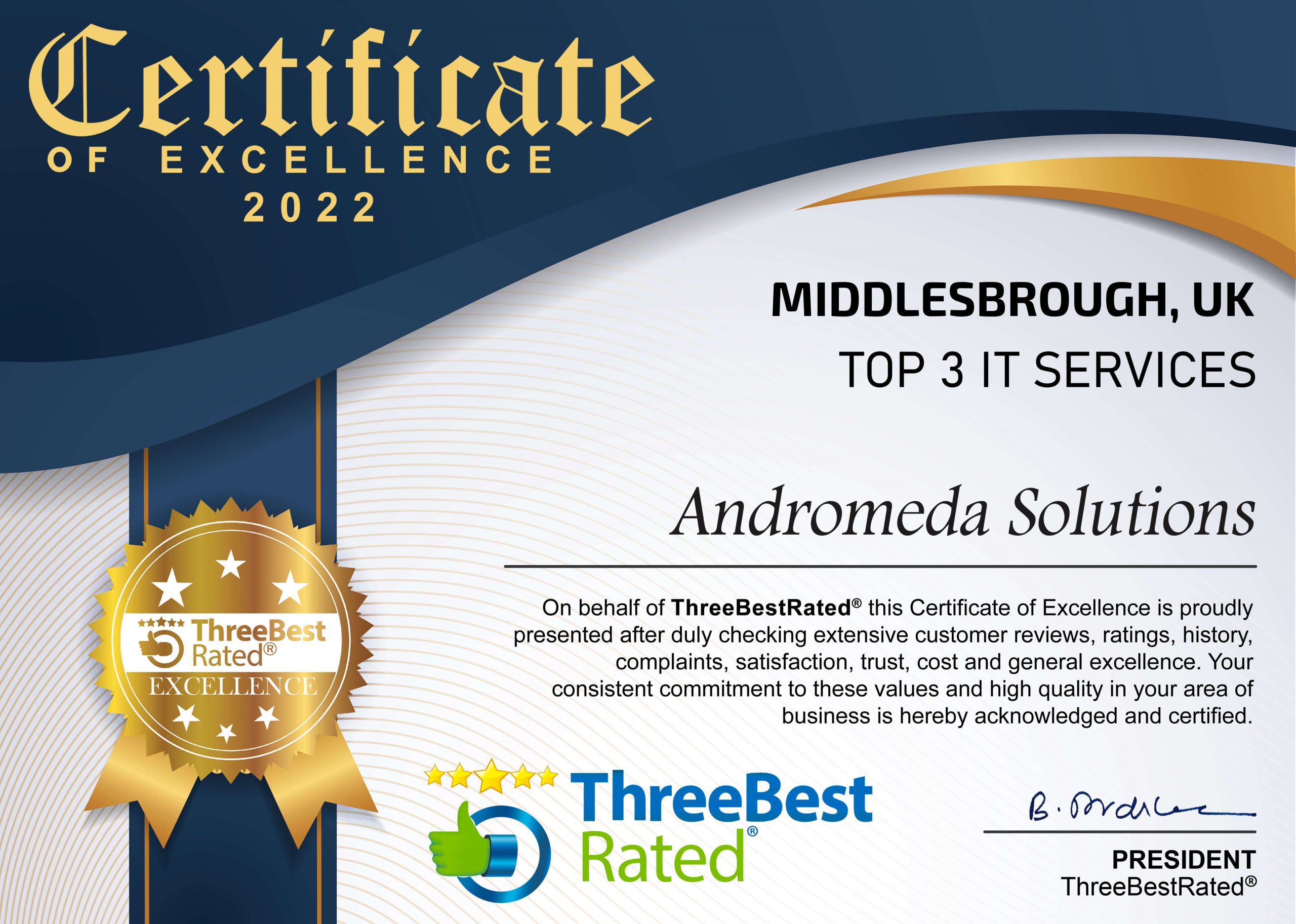 February 15th 2022
Best IT services in Middlesbrough for the third year
It's official – for the third year running, Andromeda Solutions has been awarded the coveted prize of being one of Three Best Rated's Best IT Services in Middlesbrough. This new award is yet more recognition of our company's outstanding commitment to delivering the very highest standard of IT support to both business and domestic customers around the North-East.
A Prestigious Title
Three Best Rated was created back in 2014 with the aim of giving people a clear indicator of the best businesses in their local area. Covering a wide range of trades and services, Three Best Rated look carefully at firms providing everything from plumbing to restaurants in a number of towns and cities. They have developed stringent selection criteria which whittle down the contenders, meaning that only the finest businesses are recognised with a title.
Being named one of Three Best Rated's Best IT Services in Middlesbrough is truly an achievement to shout about. The judging process is extremely rigorous, as Three Best Rated use a 50 Point inspection checklist, which covers every aspect of a business, from customer reviews to trust ratings, and price to trading excellence. Therefore, it's no wonder that Andromeda Solutions are immensely proud to have been awarded this accolade for the third time, consolidating our achievement in this category in both 2020 and 2021. We have also been awarded Three Best Rated's coveted five-star rating, another impressive honour for our team of dedicated IT experts.
The best IT services in Middlesbrough
There are plenty of reasons why Andromeda Solutions stood out to the judging panel. Not only are we Cyber Essentials Certified and registered with the ICO, but Andromeda Solutions also have the edge when it comes to delivering a superb service to our customers. When you call Andromeda, there is no intermediary or call handler to deal with: instead, you are put straight through to a senior engineer, ensuring that your solution gets started straight away.
Indeed, if your organisation is facing a business-critical tech problem, we will respond within the hour. We also offer a same-day home visiting service to domestic computer users. Our policy is to always provide a transparent, friendly service, and we pride ourselves on building long-lasting relationships with our clients.
A host of IT support services
If you are a home user wanting a computer health check, advice on which new software is right for you, virus removal or a system upgrade, then Andromeda Solutions is the ideal choice. And for business owners, our unique approach sees us take the best practices of large-scale corporate IT systems and apply them to the SME environment, reducing costly downtime and boosting efficiency.
We specialise in everything from server technology and cyber security, through to VOIP telephony and Cloud services, and can provide both one-off troubleshooting or ongoing comprehensive IT support. Why not get in touch and discover the Andromeda experience for yourself?