Want top-notch cyber security? Contact us today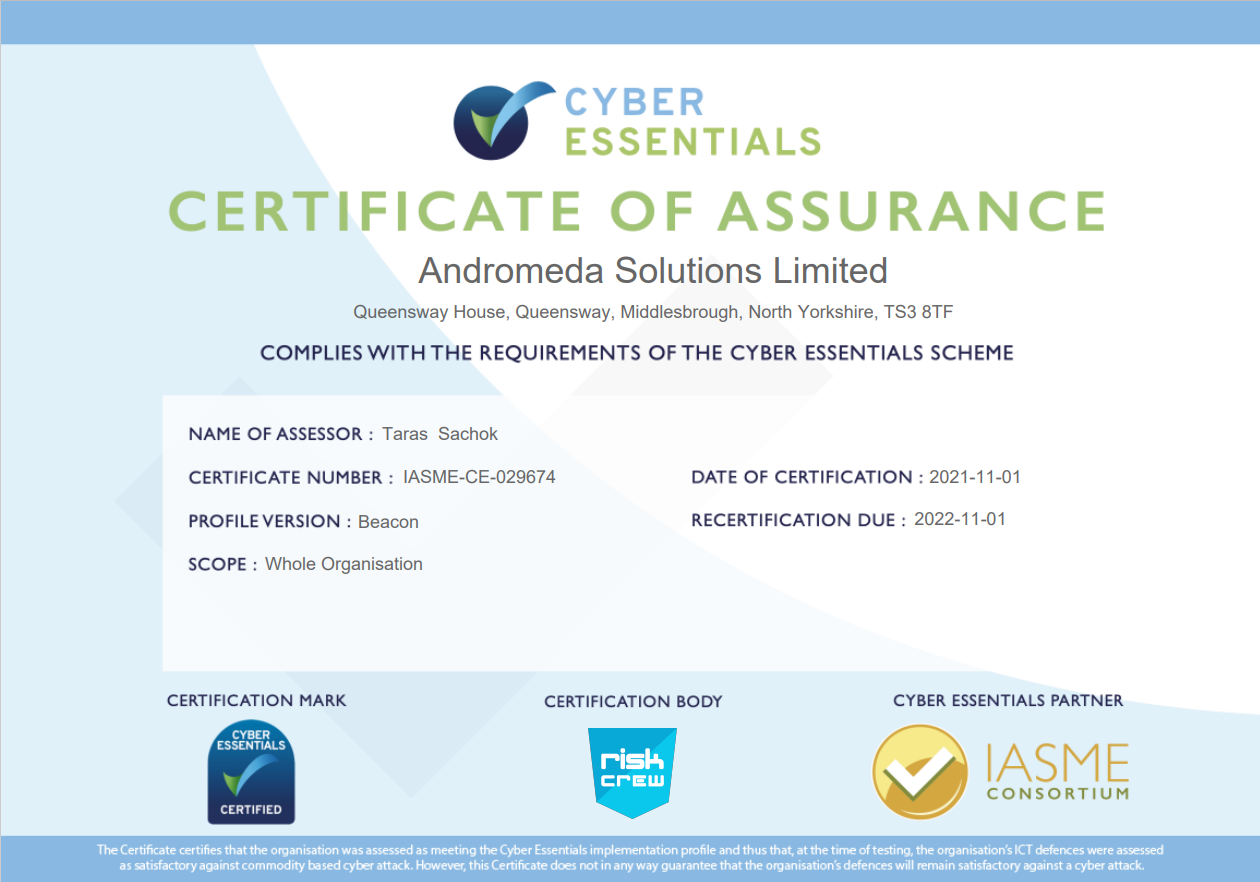 November 17th 2021
Want top-notch cyber security? Contact us today
The importance of having good cyber security in place should never be understated. After all, you want to be able to ward off any potential threats, and not have to deal with the pesky problems that come with hacks should they arise.
Here at Andromeda Solutions, we have an ongoing commitment to our own cyber security and have recently renewed our Cyber Essentials certification. We have all the necessary measures in place to successfully protect our own business, and that of our customers.
Cyber Essentials Certification
Cyber Essentials is run by the National Cyber Security Centre and is a government-backed scheme, it helps organisations put the security controls in place to protect them from the most common cyber-attacks. For Andromeda Solutions, this certification provides us with external assurance that we have the correct and necessary measures in place to help protect us, and our clients, against potential cyber threats. Find out more on the National Cyber Security Centre website.
The benefits of cyber security
Of course, you want to do everything possible to keep your business secure at all times, and below are a few advantages of having a robust cyber security system:
It protects your data and systems from unauthorised access, including personal information.
It helps reassure customers that you are doing all you can to secure your systems against cyber-attacks.
You can attract new business with the promise that you are equipped with all the latest cyber security tools.
It can reduce the amount of downtime on your systems and website.
It can support your IT department to effectively prevent cyber-attacks.
With criminals finding more intuitive ways to break into and hack systems, we are always on guard. We can do everything from encrypting mobile devices, tablets, and laptops, as well as deploying a mobile device management (MDM) to make sure your business is protected at all times.
Sorting out your defences
Holding off on improving your online security could be critical for the long-term future of your business. As IT experts, we believe we are well placed to give you the best possible support both in the office, and at home. If you want to sort out defences, let us take care of everything as we know all about the best antivirus, content filtering, and encryption methods to keep hackers at bay.
If you want to beef up your security, then you will want your systems to be watertight. And of course, you will want someone to handle it who you can trust. Let Andromeda Solutions help you improve your cyber security systems today. Get in contact with us to discuss the levels of cyber security we provide.